ID/OD & Capacity Building Concepts
Institutional Development (ID) focuses on the strengthening of organizations on how they are positioned within their context in relation to other stakeholders. Multi stakeholder meetings, dialogue and negotiation are crucial for the acknowledgement and credibility of the organization.

Organizational Development (OD) concerns the strengthening of the organization internally regarding strategic planning, human resource as well as financial and general management, the administrative as well as business processes, structure, ethics and culture of the organization, etc.

Click on the image below the magnify it.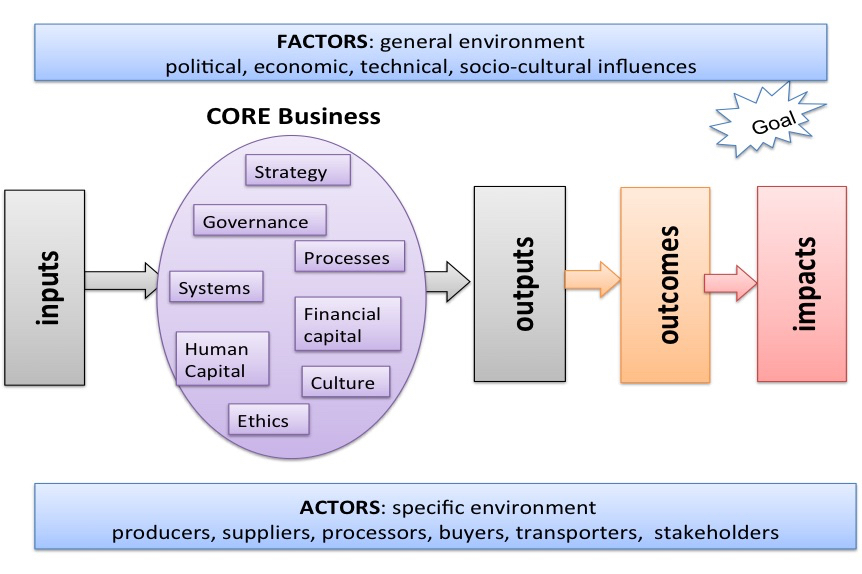 In both approaches, capacity building and documentation of successes are important elements of the support.
Institutional and Organisational Development:
| | | | |
| --- | --- | --- | --- |
| Strategic planning for the Tanganyika Christian Refugee Service (TCRS) | Tanganyika Christian Refugee Service/ TCRS | Support the development of a new strategic plan for the organisation | |
| Organizational capacity assessment | | During a four-phase assignment, a desk study, scoping and in-depth phase including online survey and field visits, the team assessed the institutional (governance and stakeholders), organisational (SP and result framework), Operational (HR, Finance, processes and systems). The team provided as well capacity backstopping on key areas | |
| Water for Growth program, introducing an IWRM approach for Rwanda | Embassy of the Kingdom of the Netherlands | Institutional assessment of the Rwandan Natural Resources Agency / water department, to ensure embedding of the IWRM approach in the department. | |
| Review of back stopping services to MVIWATA | | Assess the newly developed and other adapted manuals for procurement, financial management, Human Resource Management and operations in relevance and effectiveness to address risks | |
| Review of the institutional embedding of Integrated Water Resource Management in the Agency and decentralized bodies | Rwanda State Agency of Natural Resources Rwanda | Based on Review, development of a capacity building program. Support to the institutional arrangement and funding modality for an IWRM Investment Fund. | |
| Support to establishment of UNGC local network in Tanzania | | Facilitation of strategic planning, content development for the businesses on two selected principles, namely anti-corruption and environment, set up of website, registration and soft launch of the initiative. | |
| Institutional and Organizational Development and Capacity building of LGA in CBNRM | | Assessment of and recommendation for institutional and organizational strengthening plan including capacity plan for local government authorities to improve Community Based Natural Resource Management (CBNRM) | |
| Organizational development: internal controls and financial management | | Development of Human Resource Management manual as well as a financial processes manual | |
| Organizational development | | Strengthening the Agriculture Non-State Actors Forum to improve internal capacities by improving: (i) M&E through Outcome Mapping; (ii) Teambuilding; (iii) Report writing; and (iv) Human resource management | |
| Institutional and organizational support | | Quality Control Strategic Planning and preparation of concept papers | |
| Support to Change Management process for reorganization of St. Francis Hospital | | Preparation of Action Plan and formulation of reorganization project for St Francis Hospital from district to regional referral hospital | |
| Human resource and organization development in the water sector | | Organizational and strategic development support for the water institute, to develop in a market responsive water training institute. | |
| Institutional needs assessment of Zanzibar State University | Copenhagen School of Global Health | Institutional needs assessment of Zanzibar State University and development of short course in environmental health | |
| Institutional review and strengthening plans for Zanzibar Municipal Council and 3 town councils of Pemba | | Identify and analyze current human resource, internal management procedures, material and logistics, as well as financial and fiscal capacity constraints, for the three town councils in Pemba: Chake-Chake, Wete and Mkoani Town Councils. | |

Strategic Planning and Project Formulation:
| | | | |
| --- | --- | --- | --- |
| Support to establishment of UNGC local network in Tanzania | | Facilitation of strategic planning, content development for the businesses on two selected principles, namely anti-corruption and environment, set up of website, registration and soft launch of the initiative. | |
| | | Assist ActionAid in reorientation of their strategy | |
| Development Guidelines for Study and Consultancy Fund | | Due to change in focus of the SCF the guidelines have been adjusted to align with the IDCP and reorient along the sectors | |
| Identification and Formulation scholarship program | | As team member participation in formulation of the new scholarship project aligned to the IDCP sectors | |
| | | Support to the team in developing the new strategy and preparing the strategic plan | |
| Formulation of the synergy project | | Support to agree on overlapping mutual reinforcing opportunities for collaboration between the BTC funded projects | |
| Support to the formulation of indicative development cooperation program | | Guiding the team through the analysis of implementation of previous plans and formulation of new strategic plan | |
| | | | |
| --- | --- | --- | --- |
| Capacity building program development for national and district level officials in support of sustainable charcoal and timber value chain development. | | Based on a participatory capacity needs assessment (following the "five Capabilities model") of key government institutions with roles and responsibilities in the charcoal and timber value chain, development of a 3-year capacity building programme for 100 officials of priority government partners | |
| Outcome mapping mainstreaming | | Training, coaching and follow up of the SNV advisors to develop the model and to set up the system within the organization | |
| Capacity building funding flows LGAs | | Assessment of the capacity of LGAs to use the funding for capacity building effectively | |
| | | | |
| --- | --- | --- | --- |
| | | Assessment of Theory of Change of HakiElimu and a dvocacy strategy impact on policy and budget allocation for quality of education | |
| | | Upgrading 12 case studies for publication and support advisors to improve writing skills | |